Tulum Retreat 2019
In 2019 we enthusiastically hosted a kickass group of Namaste as Fuck peeps at our first international retreat in Tulum, Mexico. For 6 nights and 7 days we took over a beautiful, beachfront resort and called it home.
TULUM RETREAT - APRIL 2019
In 2019 we enthusiastically hosted a kickass group of Namaste as Fuck peeps at our first international retreat in Tulum, Mexico. For 6 nights and 7 days we took over a beautiful, beachfront resort and called it home.
Knowing that everyone travels differently, this trip was designed to allow guests to make it how they like it! Into more R&R? Lounge at the beachfront pool and cocktail bar. Want to adventure? Sign up for a local tour! Into the nightlife? There are plenty of fun bars and clubs nearby, and we will only be a short taxi ride from downtown Tulum. We are all about doing what feels right, which helped make this a trip of a lifetime!
Our Tulum Retreat included:
6 nights accommodations at our beachfront resort, Amansala
All daily meals are included (except for one optional off-site group dinner) at the delicious & vegan, vegetarian & dietary restriction friendly resort restaurant.

At least two daily yoga classes/unique workshops from all of our legendary NAF instructors (with optional additional classes!) in beautiful open air yoga shalas.

All mats, blocks, blankets and straps will be provided.

Full access to the resort (including beach front pools and rooftops with epic views!)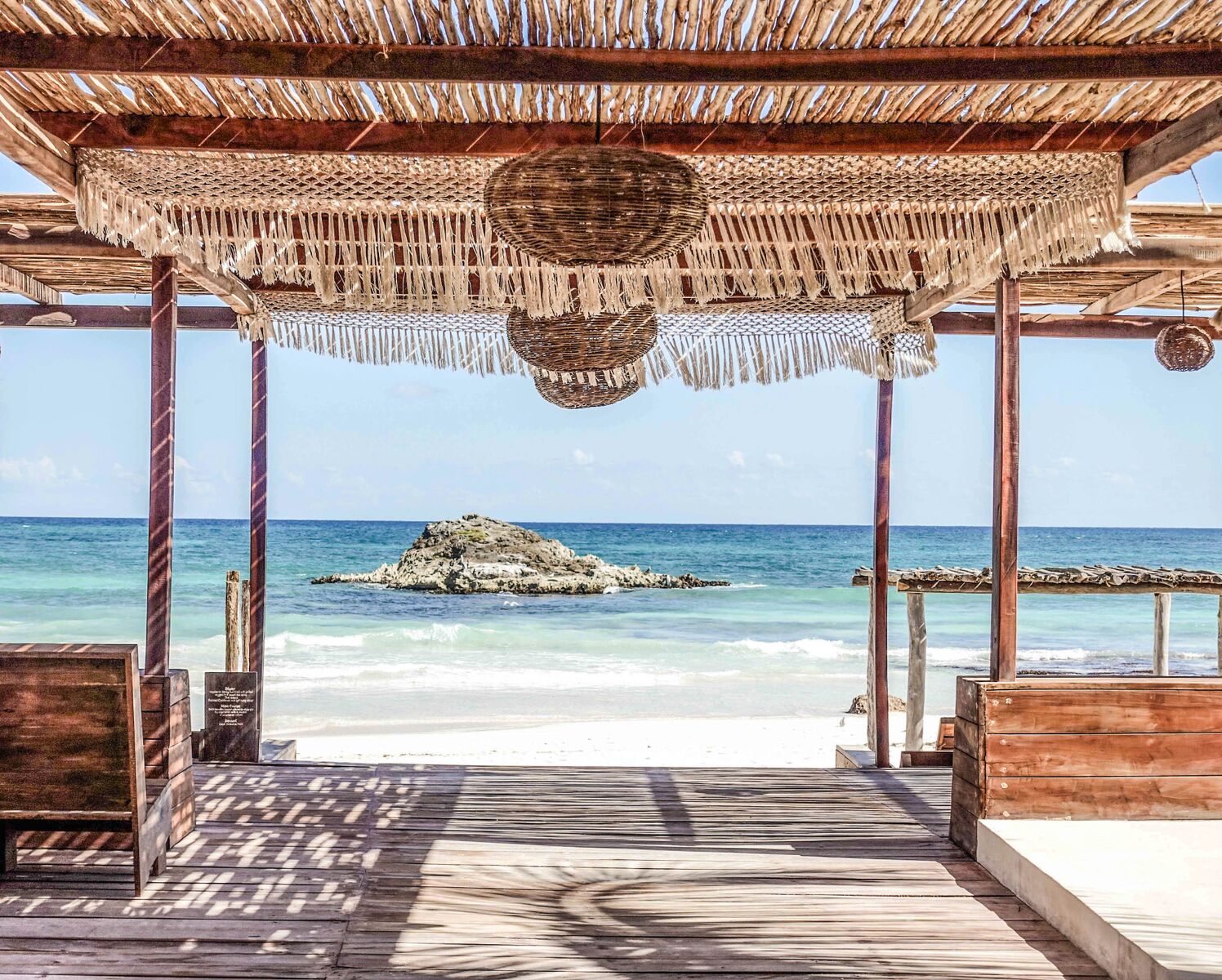 ACCOMMODATIONS
The Amansala Eco-Chic Resort - Amansala is Sanskrit named after the peaceful crystal clear waters of Tulum, and to this day it is still one of Tulum's most iconic, eco-chic boutique hotels. Amansala is a full service resort that puts equal emphasis on indulgence as it does on the restoration of the mind, body and spirit. The resort uses natural materials and resources to create simple yet beautiful rooms, a menu full of fresh delicious food and an atmosphere that feels more like staying at a friends beach house than a hotel.
We've got rooms for every sort of traveler - whether you are interested in sharing a room with a buddy or a new friend/s or are looking to treat yo 'self in a private, beach view room, we've got something for you!
GETTING THERE
We recommend either flying in to Cancun or Playa Del Carmen
Tulum is located about 90 minutes from the Cancun International Airport
Airport transfers to the resort range from $45-$135 depending on the company you choose and whether you'd like shared or private transfer. Depending on your arrival time, we may be able to coordinate you sharing a transfer with someone else on the retreat, we will do our best!
Amansala does offer airport transfers directly to the resort, if you are interested in coordinating through the resort, you can contact them directly or shoot us a message and we are happy to schedule that for you, too!
Address: Boca de paila Km 5.5, 77766 Tulum, Q.R., Mexico. Whoever you decide to book through, please make it clear that you are headed to the Amansala on the beach, as there is another one located inland.
Check in time is 2PM on April 17th. We will have snacks available upon arrival at 2:30pm, an opening circle and yoga class followed by our first group dinner. Check out time is 12pm on April 23rd - we will have a light early morning breakfast, morning yoga and closing circle followed by brunch before we head our separate ways.
OUR TEAM
Alex Tacket, Founder of NAF & Yoga Teacher
In 2011, I walked into my first yoga class and got my ass absolutely handed to me. I hated every second of it – I hated the teacher for naming the poses, I hated everyone else for knowing how to do them, and I hated myself for what it felt like. And then we finally hit svasana and I felt something I had never felt before. I felt lighter. At peace. Myself. Alive.
As I continued to practice, jumped in on teacher trainings and dove deeper down the rabbit hole, I couldn't shake feeling out of place. Everyone at the studios, in the community and on Instagram seemed so peaceful while I was sitting in chair pose wanting to punch everyone else in the face. I began to shop for yoga gear, and all I could find were shirts that said something about "love & light," "peace" or "following your heart." I resonated with those shirts AFTER class, but I felt like a total liar wearing something like that on my mat while I'm cussing the teacher out in my head. So, Namaste As Fuck was born.
Our mission is to unapologetically make space for ALL of the feelings and experiences that come along with yoga practice and really, life in general. By shattering the misnomer that you have to BE or FEEL a certain kind of way to practice, we can get more people on their mats, feeling alive, feeling themselves & save the world.
I am so excited to bring you the Namaste As Fuck experience in a week long paradise retreat with a gang of kickass, welcoming peeps! Our community is absolutely one of a kind and I know you will love being a part of it!
Colette Hernandez, Yoga Teacher
Coco Colettey here! I am beyond ecstatic about being invited to co-lead Namaste As Fuck Takes TULUM! Namaste As Fuck is so special to me because of the all the opportunities I've been given. The community that gravitates to NAF is so fucking beautiful and makes you want to be involved. I love this brand, company, and founder because it is true to the mission that as been set. I'm all about cruelty free, open minded thinking, no judgement, and being your truest self. NAF is exactly those things plus a billion other badass motives.
You don't want to miss this experience. I'll be toastin' my buns in the sun and letting myself be a free open soul on this retreat. I'm so pumped to meet new people, do yoga in a new environment, and find something new about myself as a teacher and student. I WANT YOU TO BE THERE WITH ME!!!
So just come k? <3
Taylor Johnson, Acro Yoga & Yoga Teacher
Sup fam! It's ya girl Tay. I am beyond excited to be co-leading Namaste As Fuck takes Tulum with the NAF crew. My NAF fam is so special to me, and there's no one I'd rather be soaking up some Mexican sunshine with. NAF is all about tapping into the badassery we all have within us and being real AF in all the things we do. Whether yoga makes you want to scream "FUCK THIS SHIT" or makes you see sunshine and rainbows everywhere, we are here for it. NAF is all about being your most authentic self and that is some shit I will ALWAYS get behind.
So with that said come twerk, and yoga, and Acro, and play with me in Tulum bbs! Don't miss out and all the fun times and sunshine. Love you friends <3
Monica Ingram, Buti & Yoga Instructor
Monica Ingram is a yoga student of 7+ years, and has wanted to be an RYT from the moment she found yoga. She is a 200hr RYT & a Buti Yoga Instructor - it's Monica's goal to travel, teach and spread the Buti practice to give women and men the tools towards radical self-love. Monica spends her free time playing video games and planning future adventures - including bringing some of her Buti love to Tulum!

Namaste As Fuck means being authentic to yourself. We usually show up one way on the mat (or whatever it may be) and then show up as another in everyday life. Don't be afraid to be totally fucking real and raw and authentic in all aspects of your life.
Felix Rodriguez, Photographer & Yoga Teacher
Whats up beautiful bitches its Feelo! I am a yoga teacher, content creator, super dork and I am fucking pumped to join such a babe squad and capture all of you embracing the magic of Tulum and the bad ass vibes of Namaste As Fuck 💯 So many people ask me what the fuck Namaste means…and to so many people it means so many things!
To me, this company is about embracing the realness that is you, seeing it in others and accepting all of it. I see you all out there strutting your stuff, then acting all shy and insecure in front of the camera, just be you! Let me show you through my eyes, just how fucking awesome you are!
This retreat is going to be absolutely magical ⚡️and I can't wait to share it with all of you. Let's break the fucking gram with our sexiness!!! (Queue "I'm bringing sexy back") 🕺💃
You can check out some of Felix's awesome work on his website, feelo.life.
FAQ's
What if I'm new to yoga?
This retreat is for all levels! There will be plenty of space to make your practice your own at a pace that works for you and also be room to challenge yourself no matter what your experience.
Do I have to go to everything? What if I want to hang on the beach?
This retreat is all about YOU and what you want to do. Everyone travels differently and everyone will need something a little different in this experience. You may be in need of a little bit of R&R on the beach or beachfront pool or you may be curious about pushing yourself to explore or try something new - every class and workshop is COMPLETELY OPTIONAL and we encourage you to make this all about YOU and what you want.
Can I bring a friend?
Hell yeah! We are happy to coordinate you guys rooming together (up to three friends sharing a room), just message us with who you'd like to room with.
Can I reserve my own room or upgrade?
Yes! Shoot us a message for additional rooming options.
Is airfare and taxi included?
Airfare and transportation to the resort is not included in your ticket price, so that you can use/earn your own airline miles if you have them.
Should I get travel insurance?
WE HIGHLY RECOMMEND PURCHASING TRAVEL INSURANCE
Travel Insurance generally costs between $30 and $60. This is for your own protection financially and physically. Most importantly if you were to have a serious injury or medical issue while traveling the insurance will cover those cost for you including transportation back to the US. It also protects you in the case of expenses due to flight delays, lost luggage and more. We use Allianz but there are many companies who offer Travel Insurance. It's simple to sign up. www.allianztravelinsurance.com . Please forward your insurance to us once you have obtained it. We keep it on file should you have a medical emergency. Insurance can most often be purchased when booking your flight as well. Namaste As Fuck is not affiliated with any insurance company and we do not hold any responsibility for your policy agreement with one.
What about food allergies?
Amansala has an UH-MAZING restaurant (we were there last April) that can accommodate all dietary restrictions (vegan, vegetarian, etc.) and food allergies. Just be sure to let us know ahead of time so we can keep them in the loop.
Is there a spa?
Yes! Amansala offers a variety of super juicy spa services and we will also be close to several world famous Mayan healing & bodywork centers. Feel free to book a spa service for yourself to make your vaca extra relaxing (extra fees do apply).
Got more questions?? We're all ears! Hit us with an email & we will get back to you ASAP
Joshua Tree May 2018
Join a crew of authentic, mindful, female badasses, for tons of yoga, awesome workshops, clean eating, dirty dancing, pool parties, happy hours & the magic of the desert!
May 18-20th 2018 in Joshua Tree, CA
Join us in a gorgeous remodeled private house in north Joshua Tree that has breathtaking views, a solar heated pool, hot tub, outdoor fireplace, kitchen under the stars, all set on 2 1/2 private acres wide open to the Milky Way.

Emerge from this retreat feeling a CONNECTION to a new community with a sense of empowerment and possibility. Take this journey to Joshua Tree to be mindful AF, renew, recharge, and to BE YOUR FUCKING SELF.
TOGETHER WE WILL EXPERIENCE:
Yoga! SO MUCH YOGA
Fresh, clean, organic eating provided by professional chefs & total goddesses Jessica Wajda & Sada Dutra! Featuring delicious treats from Wilderness Poets, Thistle and Primal Kitchen.
Acro yoga workshop (beginner friendly!!)
Somatic breathwork
Yoga nidra
Energy clearing 101
Cacao ceremony
Seeing yourself/Overcoming Fear Workshop
Reiki workshop
Epic sunsets
NAF Photoshoot
NAF Goodie bags (including never seen before items from our new spring line!)
Happy hour(s)
Pool party(ies) and more!!
Featuring:
Alex Tacket ~ Yoga teacher & founder of NAF!
Sada Dutra, our Superstar Chef!~ Sada grew up learning traditional Azorean cooking methods alongside the matriarchs of her family. Once she set out on her own, she incorporated more plant based options into her culinary venture, with love remaining as the core of her technique. She is gifted at transforming authentic cuisine into plant based masterpieces and has found her passion in designing delectable dishes that are appeasing to both the eye and the pallet.
Taylor Johnson, one of our kickass teachers!~ Taylor is a Yoga, Acro Yoga, and fitness instructor whose goal has always been to empower and uplift those she teaches. To her exercise and fitness are so much more than just physically moving and exerting your body. It is all about self-expression, self-love, and self-empowerment. And it is through this belief that she makes her students feel like their truest, most badass, and authentic version of themselves.
Katy Rieber, one of our kickass teachers!~ Katy is a painter, photographer, and yogi! She is so excited to share this amazing retreat weekend with all of you. Katy can't wait to flow, shift and elevate as we move through each vinyasa and clear out stuck energies. Katy is a lover of black coffee, reiki healing, a good restorative class and anything by Georgia o'Keefe.
Katy has recently completed her 200 hour hatha certification where she immersed herself in the asana practice as well as meditation and pranayama techniques. Katy is a huge advocate for meditation as a way to deeply align with your soul and begin to yoke the mind and the body. It is a healing practice which has helped her through many difficult moments - she can't wait to hold space for others to come into their own healing. She will be teaching a morning Reiki & Refresh class and will discuss different self-healing techniques that you can use in your own practice. See you this weekend! ❤️
Colette Hernandez, one of our kickass teachers!~ When the universe has a plan for you, the path is usually very unpredictable and faith can be lost along the way. To stay focused in a greater power that is completely intangible is a true test of oneself.
The universe tested me and with my patience, passion, and practice in yoga I'm finally on the right path to success.
I found yoga 3 years ago through my best friend and badass yogi @taylorjyoga ,by attending her community classes. After a couple classes I was hooked and knew there was more to explore with the practice and my own divine power. I have now completed my 200 hour Power Vinyasa Teacher Training and will continue to learn for the rest of my life.
After my teacher training I was feeling lost and defeated, because in LA it is a tough ass competition to get your voice hear to become a teacher. All I knew is that I wanted to teach, I wanted to share my new yoga knowledge, I wanted to meet amazing people in the community.
When I was at my lowest low, about to give up the universe threw Namaste As Fuck my way. To make a connection with a brand that advertises all people, especially FUCKING BADASS women to be their true authentic selves, I knew I was taking my first steps on my right path. I am so happy to announce be teaching at @namasteasfuck girl power retreat May 18th-20thin Joshua Tree, CA!!! Come join me for yoga, happy hour, amazing connections and sooooo much more!!!