Retreats Redesign
Join us for the full Namaste As Fuck experience on one of our retreats!
We travel all over the world to bring you kick ass classes and workshops in beautiful places. Our community is one of a kind and we can't wait for you to be a part of it!
Let's go to Tulum!
We are now accepting applications to join a group of kickass, Namaste As Fuck peeps for 6 nights and 7 days in beautiful Tulum April 2020!
WHAT'S INCLUDED
6 nights accommodations at our beachfront resort

All meals - light breakfast, brunch, snacks, dinner - except for one off-site group dinner (we are dietary restriction & allergy friendly!)

All yoga classes & workshops led at least twice a day by our kickass teachers in beautiful yoga shalas

Your entire trip & activities will be photographed by world renown photographer Felix Rodriguez of Feelo Life for your personal or professional use

Tour of secret cenote

Mayan Clay Meditation Session

Salsa Lesson

Cooking Lesson

Bike rentals for your use the entire stay

Group Salsa Night at La Zebra

Mats, blocks, bolsters for your use

Access to entire resort
OMG I had no idea what to expect from my first retreat.
NAF, you are KICKASS for what you stand for. Thank you for the best/most relaxing party/yoga/spiritual retreat a girl could have ever asked for. It was exactly what I needed and I'm feeling so refreshed mentally and physically. BESOS. -Shaina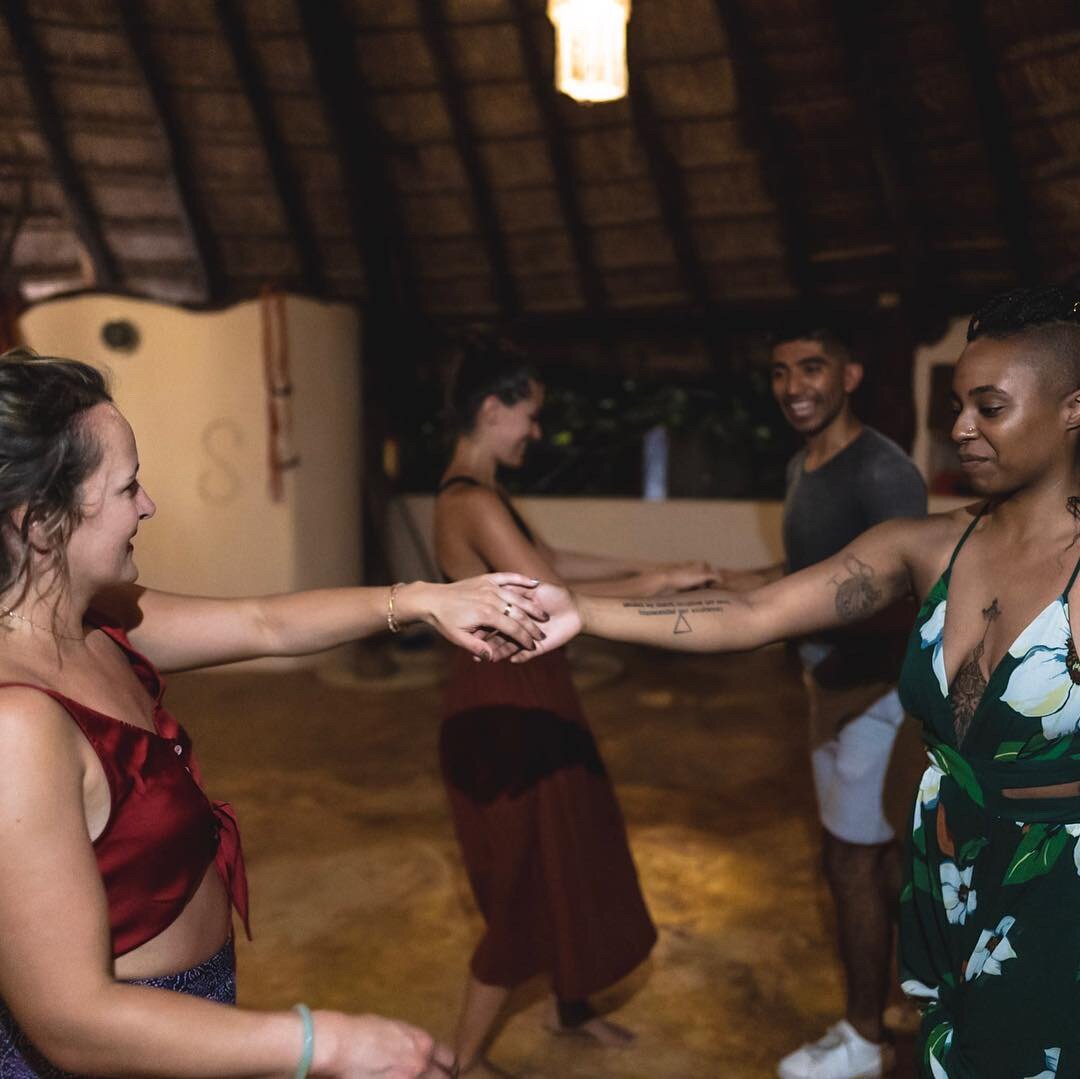 A client asked if I was in love…
it was a perfect question, because I am. I am in love with the people I had just spent a week with in Tulum. I am in love with my yoga practice. For what feels like ages, I am in love with myself. I committed to this yoga retreat with a confused and hurt heart and soul…I know NOW that it was just what I needed at exactly the right time. Any sooner and I wouldn't have been ready, and any longer I would have missed this particular group. I let a LOT of shit go in Tulum. I let my heart break in Tulum. I let it hurt in Tulum. I learned to love my body in Tulum. I twerked in Tulum. I laughed my ass off. I looked at women I had only known for days feeling like we had been connected for years. I traveled alone…but I wasn't alone on that trip. I took a chance and it fucking paid off. I cannot wait to see you beautiful souls again and I am inspired by every single one of you. THANK YOU. -Emily
And by that I don't mean the sun kissing my bare skin. I mean I allowed my feelings to be exposed and all the sudden my baggage felt so much lighter. Thank you all you beautiful souls for allowing me to be a part of this experience. I'm grateful for every tear, every laugh and every drop of sweat I was able to share with all of you. Great things happen when you meet people who support and uplift each other - until next time! <3 Diana
Retreat FAQ's
What if I'm new to yoga?
This retreat is for all levels! There will be plenty of space to make your practice your own at a pace that works for you and also be room to challenge yourself no matter what your experience.
Do I have to go to everything? What if I want to hang on the beach?
This retreat is all about YOU and what you want to do. Everyone travels differently and everyone will need something a little different in this experience. You may be in need of a little bit of R&R on the beach or beachfront pool or you may be curious about pushing yourself to explore or try something new - every class and workshop is COMPLETELY OPTIONAL and we encourage you to make this all about YOU and what you want.

Do you offer payment plans?
Yes! We offer flexible payment plans,

shoot us a message

to coordinate.
Can I bring a friend?
Hell yeah! We are happy to coordinate you guys rooming together (up to three friends sharing a room), just message us with who you'd like to room with.
Can I reserve my own room or upgrade?
Yes! Shoot us a message for additional rooming options.
Is airfare and taxi included?
Airfare and transportation to the resort is not included in your ticket price, so that you can use/earn your own airline miles if you have them.
Should I get travel insurance?
TRAVEL INSURANCE IS REQUIRED THIS YEAR
Travel Insurance generally costs between $30 and $60. This is for your own protection financially and physically. Most importantly if you were to have a serious injury or medical issue while traveling the insurance will cover those cost for you including transportation back to the US. It also protects you in the case of expenses due to flight delays, lost luggage and more. We use Allianz but there are many companies who offer Travel Insurance. It's simple to sign up.

www.allianztravelinsurance.com

. Please forward your insurance to us once you have obtained it. We keep it on file should you have a medical emergency. Insurance can most often be purchased when booking your flight as well. Namaste As Fuck is not affiliated with any insurance company and we do not hold any responsibility for your policy agreement with one.
What about food allergies?
We have got an UH-MAZING restaurant (we were there last April) that can accommodate all dietary restrictions (vegan, vegetarian, etc.) and food allergies. Just be sure to let us know ahead of time so we can keep them in the loop.
Is there a spa?
Yes! Our resort offers a variety of super juicy spa services and we will also be close to several world famous Mayan healing & bodywork centers. Feel free to book a spa service for yourself to make your vaca extra relaxing (extra fees do apply).
Are there refunds?
If for whatever reason you must cancel, we are unable to offer refunds as we will have to cover the cancellation required by the resort.
Got more questions?? We're all ears! Hit us with an email & we will get back to you ASAP